Church Services
They devoted themselves to the apostles' teaching and to fellowship, to the breaking of bread and to prayer. (Acts 2:42)

Sunday mornings are an important part of the parish week. It is a time when we can worship God, build up our faith and enjoy fellowship together. During the services we use the Book of Common Prayer and the Church Hymnal as well as modern worship songs. Children have their own special booklet to follow and their own special action song during the service. There is a Sunday School and Crèche in Virginia Church as well as tea and coffee after the service. For younger children we provide a 'Happy Bag' which has some toys and books to keep them occupied.
Sunday Services
Normal Service Times
Killinkere 9.45am
Virginia 10.45am
Billis 12pm
Munterconnaught -
(Easter to Christmas: First Sunday At 2.00pm)
All-4-1 Services

From time to time there is a more informal service where the 4 Churches come Together as 1. (Check below for details)
Weekly Church Services
Due to government Level 5 Covid-19 restrictions our churches are closed for public worship until further notice.

It is hoped they will re-open again in May 2021.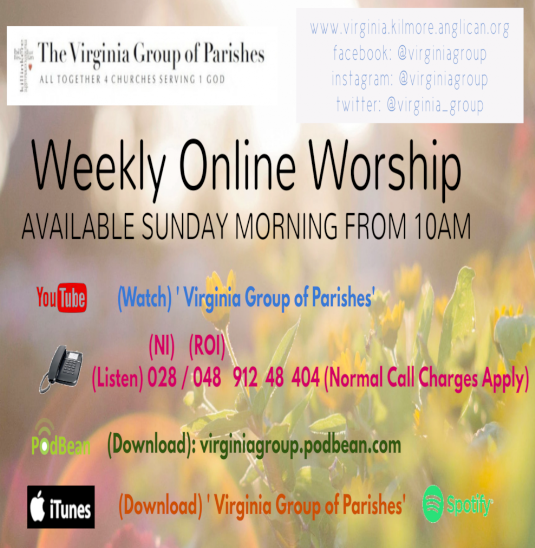 O worship the Lord in the beauty of holiness, bow down before him, his glory proclaim;
with gold of obedience and incense of lowliness, kneel and adore him the Lord is his name.